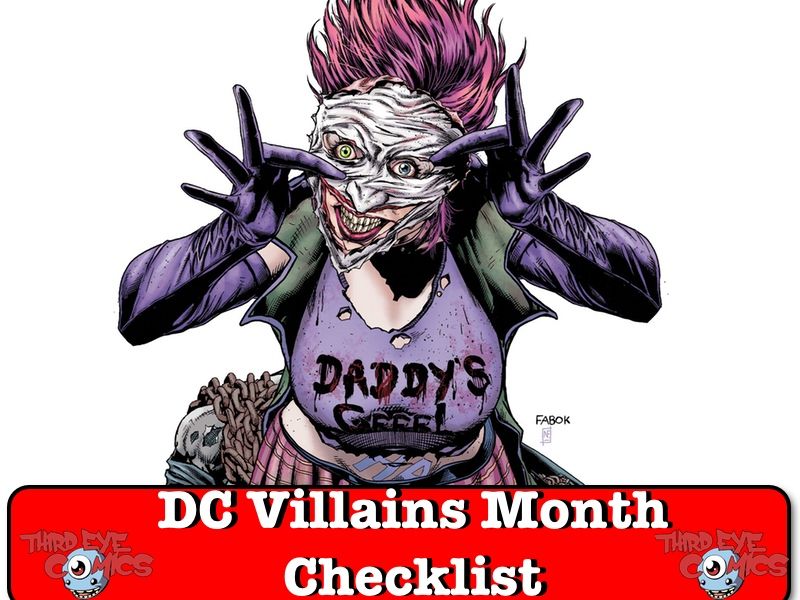 September marks not just the second anniversary of DC's NEW 52, but also the biggest linewide event DC has done since THE NEW 52 debuted…. VILLAINS MONTH!
We did a whole rundown on what to expect from Villain's Month, and you can get the full scoop by clicking here and reading our THIRD EYE GUIDE TO VILLAINS MONTH.
Need a checklist for all the DC Villains titles and when they come out? Look no further — we've gotcha covered!
WEDNESDAY 9/4/13
FOREVER EVIL #1
ACTION COMICS: CYBORG
BATMAN: THE JOKER
BATMAN AND ROBIN: TWO-FACE
BATMAN THE DARK KNIGHT: THE VENTRILOQUIST
DETECTIVE COMICS: POISON IVY
GREEN ARROW: COUNT VERTIGO
GREEN LANTERN: RELIC
JUSTICE LEAGUE: DARKSEID
JUSTICE LEAGUE DARK: THE CREEPER
JUSTICE LEAGUE OF AMERICA: DEADSHOT
SUPERMAN: BIZZARO
THE FLASH: GRODD
WEDNESDAY 9/11/13
ACTION COMICS: ZOD
AQUAMAN: BLACK MANTA
BATMAN: THE RIDDLER
BATMAN AND ROBIN: THE COURT OF OWLS
BATMAN THE DARK KNIGHT: MR. FREEZE
DETECTIVE COMICS: HARLEY QUINN
EARTH 2: SOLOMON GRUNDY
GREEN ARROW: HARROW
GREEN LANTERN: MONGUL
JUSTICE LEAGUE: LOBO
JUSTICE LEAGUE OF AMERICA: KILLER FROST
SUPERMAN: BRAINIAC
TEEN TITANS: TRIGON
THE FLASH: REVERSE FLASH
WEDNESDAY 9/18/13
ACTION COMICS: LEX LUTHOR
BATMAN: THE PENGUIN
BATMAN AND ROBIN: RAS AL GHUL
BATMAN THE DARK KNIGHT: CLAYFACE
DETECTIVE COMICS: THE SCARECROW
GREEN LANTERN: BLACK HAND
JUSTICE LEAGUE: DIAL E
JUSTICE LEAGUE DARK: ECLIPSO
JUSTICE LEAGUE OF AMERICA: SHADOW THIEF
SUPERMAN: H'EL
SWAMP THING: ARCANE
TEEN TITANS: DEATHSTROKE
THE FLASH: THE ROGUES
WONDER WOMAN: THE CHEETAH
WEDNESDAY 9/25/13
ACTION COMICS: MENTALLO
AQUAMAN: OCEAN MASTER
BATMAN: BANE
BATMAN AND ROBIN: KILLER CROC
BATMAN/SUPERMAN: DOOMSDAY
BATMAN THE DARK KNIGHT: THE JOKER'S DAUGHTER
DETECTIVE COMICS: MAN-BAT
GREEN LANTERN: SINESTRO
JUSTICE LEAGUE: SECRET SOCIETY
JUSTICE LEAGUE OF AMERICA: BLACK ADAM
SUPERMAN: PARASITE
WONDER WOMAN: FIRST BORN